DEPARTMENT OF ECONOMIC CYBERNETICS
Faculty of Cybernetics, Statistics and Economic Informatics
Academy of Economic Studies



in cooperation with



ECONOMIC RESEARCH DEPARTMENT

Academy of Economic Studies

COMMISSION OF CYBERNETICS
Romanian Academy


FACULTY OF MATHEMATICS
University of Bucharest

organize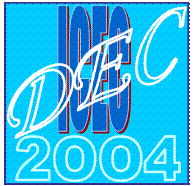 THE

INTERNATIONAL CONFERENCE ON ECONOMIC CYBERNETICS
The Cybernetics of Macroeconomics and Microeconomics
April,

22-24, 2004
BUCHAREST
Dear Madam/Sir

We are pleased to inform you that in April 2004 it will take place in Bucharest The International Conference on Economic Cybernetics entitled "The Cybernetics of Macroeconomics and Microeconomics".
The Conference is organized by the Department of Economic Cybernetics together with the Economic Research Department of the Academy of Economic Studies, the Commission of Cybernetics of the Romanian Academy and The Faculty of Mathematics from University of Bucharest.
The main goal of the conference is to offer the opportunity and create the appropriate environment for scientists and economic staff to exchange ideas and opinions related to Economic Cybernetics.
Papers that address applied issues on the field of Economic Cybernetics using rigorous techniques of analysis, as well as those that make methodological or theoretical contributions in this area are welcome.
The process of selection for papers that will be presented within the conference is based on scientific quality and relevance for macroeconomic and microeconomic Cybernetics.
The proceedings of the conference will be hosted by Department of Economic Cybernetics. The registration form as well as the conditions for participation are available on the conference web page.
We are honored to invite you to participate to our Conference.
Yours sincerely,
Prof. Ioan Eugen Ţiganescu, PhD
Chief of the Economic Cybernetics Department
GENERAL INFORMATION
For further information, please contact:
Scientific Secretary: Prof. Ana Andrei, PhD
Academy of Economic Studies
Department of Economic Cybernetics
Calea Dorobanti 15-17, Sector 1
Fax 211 39 95
e-mail: andrei_a_m@yahoo.com
or visit the Conference web page: http://asecib.ase.ro/simpozion/simpozion.htm
*For each author, no more than two papers are accepted. The full papers will be included on the CD-ROM with an ISBN code and the abstracts will be published in the Conference book.
SECTIONS
Macroeconomic Developement in Conditions of EU integration

Agent-Based Modeling of Economic System

Microeconomic Strategies Modeling

Information Technologies for Macroeconomics and Microeconomics

Statistics of Macroeconomics and Microeconomics

Applied Mathematics in Macroeconomics and Microeconomics

The Study of Youth Implication in Economic and Social Activities